Green?! That's right, you heard me! Green. Green fits, with St. Patrick's Day yesterday, Easter coming on Sunday, the 23rd (less than a week!!). What better color than green for Spring, fast approaching me here in the Midwest, not to mention all of the Green Eyed Monsters out there playing their Green Tambourines??? ;)
Check out this really cool reversible cat purse from
quiltlady50
's shop:
http://www.etsy.com/view_listing.php?listing_id=6056815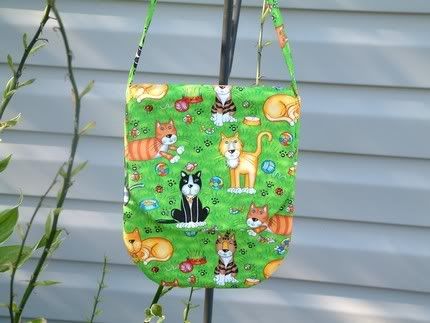 Today, I have some jewelry to spotlight, like this green jasper and garnet necklace from
Prettybird20
's shop:
http://www.etsy.com/view_listing.php?listing_id=9625968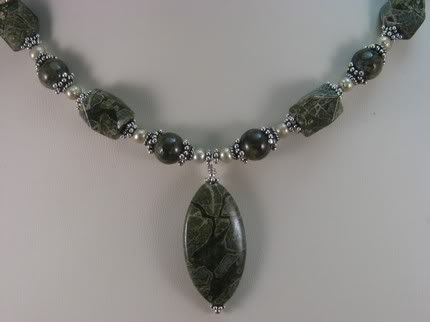 ...or this beautiful green turquoise necklace from
cherryscreations
' shop:
http://www.etsy.com/view_listing.php?listing_id=9706579
Add some green to your life, and help out the cause for Autism research by checking out
shortsupply
's terrific little onesies:
http://www.etsy.com/view_listing.php?listing_id=7108747
And....I just couldn't resist a little bit of shameless self-promotion here for my secondary shop
ClassicVintage
:
http://www.etsy.com/view_listing.php?listing_id=10010458
Yeah, yeah...I know...but Etsy has some great vintage 'stuff' too! It's just a great site for everything! Go check it out, you'll see that I'm right.
If you read this blog regularly, you'll notice that I was gone for a few days. (I
hope
you noticed, anyway lol) After playing a very nasty round of 'Catch me if you can' with good old Mr. ColdandFlu, I'm back up and running...slowly, tho ;) Getting back into drawing and creating used to be so easy for me. Fatigue, depression, lethargy...all of these things seem to go hand in hand and make it very difficult to get back into the swing of things. So, to get back into your creative mood...pick up your green pencils...oh, four different but matching shades of green...and with the lightest one, start making figure eights. Do a doodle patch of around 3 inches or so, without filling in all of the white of your drawing paper.
Next, take the next darker shade, and again, make figure eights over the lighter green, filling in a bit more white as you do. As you pick up the 3rd, darker green, try to picture in your minds eye where the darker shades of a small bush might be, and start your figure eights there, only make them smaller than the previous. With the darkest green, further define and fill in the shaded areas. When you have used all four colors, go over your doodle again with the lightest green, going over any area you think would have highlights. Finally, take your secondary green and lightly blend all of your green together by drawing over the entire image.
If done the right way, you can see a treetop or small bush emerging from the paper, with the texture and color of leaves without drawing each individual leaf. If not, then you have an awesome doodle to practice off of, right? The creepy little spider at top right of my blog was set against a background done in this manner. It still looks like a green plant of some sort, but is not focused enough to detract from the beauty of an everyday garden critter. Keep practicing, you'll get your own style to it.